Alpha-Bio Tec presents I.C.E. (Implant Classical Esthetics) implant: another example of the company's unique ability to turn scientific innovation into an effective implantology product.

The I.C.E. implant is ideal for dental professionals who demand precision, reliability and safety. Designed for ease of use and guaranteeing smooth insertion, I.C.E. is best described as providing a "perfect fit and perfect results".

I.C.E. is indicated for use in a wide range of clinical cases and bone types. It can be deployed in standard implantations, immediate loading, immediate implantations and sinus lifts. I.C.E testimonials demonstrate success with superior confidence and exceptional esthetic results.

The I.C.E. is available in varying diameters and lengths and can be deployed with most standard platform prosthetics.
IMPROVED INTERNAL HEX
Design Features:
Extremely precise and durable

One platform for all diameters*
Platform switching
Advantages:
Solid connection

Perfect implant-abutment fit

Simple restoration process

CORONAL PART
Design Features
Back-tapered**

Micro threads with 4 split starts***

Split coronal micro threads

Rough surface reaches the top

Advantages:
Great BIC (Bone Implant Contact) in the cortical part

Large surface area

Improved stress distribution

Reduces pressure on cortical bone

Less crestal resorption

Long-term esthetic appearance

IMPLANT BODY AND CORE
Design Features:
Tapered body and core

Osteotome like condensing body
Advantages:
Smooth and gentle bone penetration

High primary stability

High bone condensation properties

IMPLANT THREADS
Design Features
Double thread design with 2 mmstep****

Variable thread design

60°  thread profile with 0.3 mmtrapezoid-based shape

Advantages:
Easy and smooth insertion

Fast and controlled bone penetration

Excellent bone grip

Moderate self-drilling capability

Reduces pressure on bone

High primary stability

APICAL PART
Design Features:
Very narrow apical part

Apical blades
Efficient cutting flute
Flat apical border
Sharp and deep apical threads
Advantages:
Smooth initial penetration

High primary stability (also inimmediate implantation)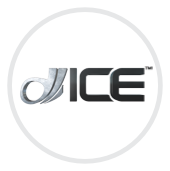 *

**
***
****
Do not use I.C.E. implants with: wide healing abutments (HSD5-3, HSD5-5, HSD6-5, HSD6-3),wide abutments (TLAB5, TLAB6, TLAD5, TLAD6, TLAD5-15) and wide analogs (IA5 and IA6).
ICE implants with Ø4.2, Ø 4.65 and Ø5.3 in lengths 10 mm and longer.
ICE implants with Ø4.2, Ø 4.65 and Ø5.3 in lengths 6 and 8 mm have micro threads with 2 split starts.
Except 3.7N – Double threads 2X2.2 mm.